Protective Microwave Perimeter Barrier Forteza FMC24 200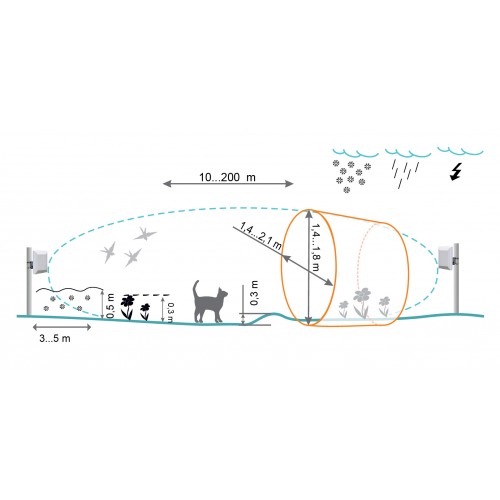 Protective Microwave Perimeter Barrier Forteza FMC24 200
Stock:

In Stock

Model:

FMC24 200
Forteza

EXCLUSIVE FEATURES:

Narrow protection zone;
Multilevel operation algorithm provides high resistance to operating environmental disturbances;
Independent 8 channels, this prevents adjacent protection zones from interacting with each other;
Optional sensor adjustment without additional tools;
Sensor settings can be used on android and windows devices;


TECHNICAL CHARACTERISTICS:

Detection zone length: Forteza FMC 24 (200m) - 10 to 200m;
The sensor generates an alarm message:
the protected perimeter stretches at a speed of 0.3 ... 10 m / s;
supply voltage drops below normal;
in the event of a mains voltage and backup power supply failing simultaneously;
when trying to open sensor housings;
attempting to cover the sensor receiver or si;
attempting to disassemble the sensors;
if the sensors fail.
The probability of detection of an offender is at least 0.98.
The sensor supply voltage is 9 ... 30 V.
Current used is 183 mA (TX + RX) (12 V DC).
Power up time up to 30 sec.
Recovery time after alarm generation - max 10 sec.
Alarm length - not less than 3 seconds.
Parameters of the operating relay: Switching current up to 0.1 A (switching voltage 30 V).
Alarm relay pin resistance up to 100 Ohm
Enclosure enclosure grade - IP65.